CENTRAL FLORIDA CHRISTIAN CHAMBER OF COMMERCE
You've worked hard to get where you are and you're great at what you do. Let us help you go further and do more. We build communities of Christian business professionals in order to advance the Kingdom of God and create Kingdom Commerce

We want to be your partner in advancing your mission by providing education, introductions, networking, marketing, exposure for your business, experience, advocacy, and more.
The Christian Chamber is an excellent resource for strengthening your brand, building relationships, and engaging with members
.
We are fully committed to helping you and your business succeed. Our mission is clear and focused. We live out this mission by being a catalyst for the development of long-lasting partnerships with a purpose.
Your membership is vital for us to continue to work together to build the Kingdom, grow our businesses and support our local communities.
Chamber membership has always been a good value but in today's business climate it's more than just valuable
–
it's essential.
For more information about the benefits offered in your Christian Chamber Membership, download our

guide to maximizing your membership.
Guide To Maximizing Your Membership
Please choose the level that best suits your business below.
Member pricing for Relationship-Building Lunches
Unlimited attendance to Fellowship Friday meetings
A listing in the online member directory, increase SEO
Participation in member-only events
Promotion of events through chamber website and updates
Member-to-member discounts
Member profile in the directory, three key search options
Membership Has Its Privileges!
Access to councils, committees, and work groups
Professional development and workshops for Members
Member news and press releases posted in e-newsletter
Ability to host Chamber events for additional exposure
Get in front of more potential clients
Increase visibility for your business
Become a sponsor to maximize business exposure
Sponsorship at the Christian Chamber is a great way to promote your organization and broaden your competitive advantage by improving your prestige and credibility in an environment where Christian businesses can flourish.
Our membership represents some of Central Florida's most influential Christian business owners and entrepreneurs. Your sponsorship investment is a highly targeted advertisement giving you access to new business relationships and greater exposure in the Christian business community.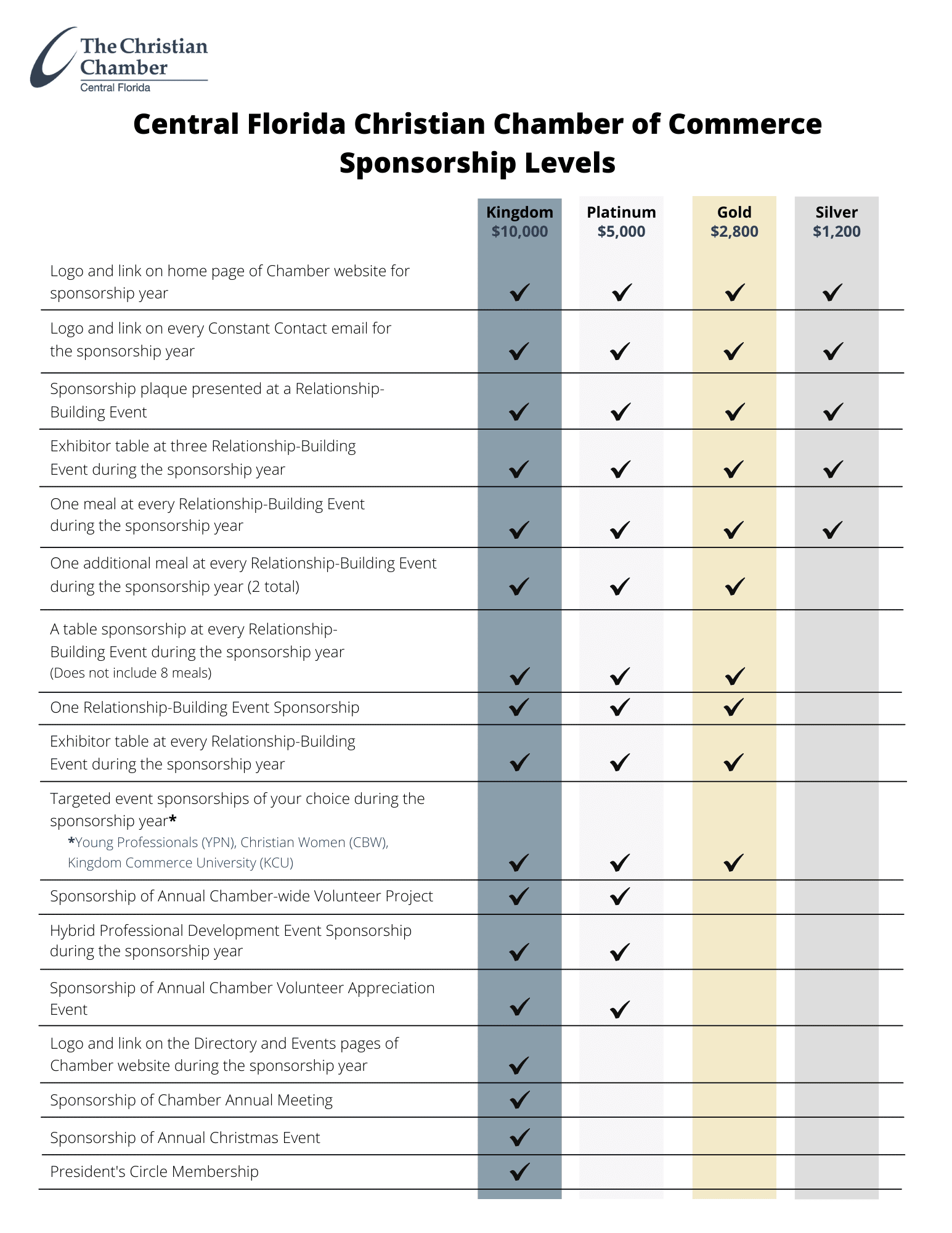 Please choose the level that best suits your business below.
Logo and link on chamber website for sponsorship year
Logo and link on every Constant Contact email for the sponsorship year
Sponsorship plaque presented at a Relationship-Building Event
Exhibitor table at three Relationship-Building Events during the sponsorship year
One meal at every Relationship-Building Event during the sponsorship year
One additional meal at every Relationship-Building Event during the sponsorship year (2 Total)
A table sponsorship at every Relationship-Building Event during the sponsorship year
(does not include 8 meals)
One Relationship-Building Event sponsorship during your sponsorship year
Exhibitor table at every Relationship-Building Event during the sponsorship year
Targeted event sponsorships of your choice during your sponsorship year*
*Young Professionals (YPN), Christian Women (CBW), Kingdom Commerce (KCU)
Sponsorship of annual chamber-wide volunteer project
Hybrid Professional Development Event Sponsorship during the sponsorship year
Sponsorship of annual chamber volunteer appreciation event
Logo and link on the Directory and Events pages of the Chamber Website during the sponsorship year
Sponsorship of chamber annual meeting
Sponsorship of annual Christmas event
President's Circle Membership
Logo and link on chamber website for sponsorship year
Logo and link on every Constant Contact email for the sponsorship year
Sponsorship plaque presented at a Relationship-Building Event
Exhibitor table at three Relationship-Building Events during the sponsorship year
One meal at every Relationship-Building Event during the sponsorship year
One additional meal at every Relationship-Building Event during the sponsorship year (2 Total)
A table sponsorship at every Relationship-Building Event during the sponsorship year
(does not include 8 meals)
One Relationship-Building Event sponsorship during your sponsorship year
Exhibitor table at every Relationship-Building Event during the sponsorship year
Targeted event sponsorships of your choice during your sponsorship year*
*Young Professionals (YPN), Christian Women (CBW), Kingdom Commerce (KCU)
Sponsorship of annual chamber-wide volunteer project
Hybrid Professional Development Event Sponsorship during the sponsorship year
Sponsorship of annual chamber volunteer appreciation event
Logo and link on chamber website for sponsorship year
Logo and link on every Constant Contact email for the sponsorship year
Sponsorship plaque presented at a Relationship-Building Event
Exhibitor table at three Relationship-Building Events during the sponsorship year
One meal at every Relationship-Building Event during the sponsorship year
One additional meal at every Relationship-Building Event during the sponsorship year (2 Total)
A table sponsorship at every Relationship-Building Event during the sponsorship year
(does not include 8 meals)
One Relationship-Building Event sponsorship during your sponsorship year
Exhibitor table at every Relationship-Building Event during the sponsorship year
Targeted event sponsorships of your choice during your sponsorship year*
*Young Professionals (YPN), Christian Women (CBW), Kingdom Commerce (KCU)
Logo and link on chamber website for sponsorship year
Logo and link on every Constant Contact email for the sponsorship year
Sponsorship plaque presented at a Relationship-Building Event
Exhibitor table at three Relationship-Building Events during the sponsorship year
One meal at every Relationship-Building Event during the sponsorship year